November 27th, 2017
24 Movesense projects at Junction hackathon
The biggest hackathon in Europe – high interest in Movesense
1500 developers gathered last weekend to Aalto Unversity, Espoo, Finland, to hack open data and specific challenges from 60 different companies and public partners of the event. Movesense participated for the first time this biggest hackathon in Europe.
The result took us all by surprise: numerous teams used Movesense sensors in their projects, and after 40 hours of intensive work, teams submitted altogether 24 projects with Movesense  by the 11 o'clock deadline on Sunday morning. The Movesense challenge turned out to be one of the most popular ones in the whole event. Projects ranged from health and sports to remote controls of lights, drones and music and much more.
Three winners of the Movesense challenge
The sports award went to team Ne'e that developed an application that allow coaches to manage multiple teams and to see team members' biometric data in real time. The team also developed an index called the ne'e factor that tells the fatigue level of each player on the field based on their motion output and heart rate. Ne'e won also the whole health track among almost 40 projects. Congrats!
Winner of the Movesense health challenge was team ReCover. Their solution tracks a person's rehabilitation process and various types of workouts, delivers live feedback about exercises and eases communication and supervision of physiotherapist. The prototype tracks knee joint flexion angle in real time with two Movesense sensors and animates the angle with an iOS app.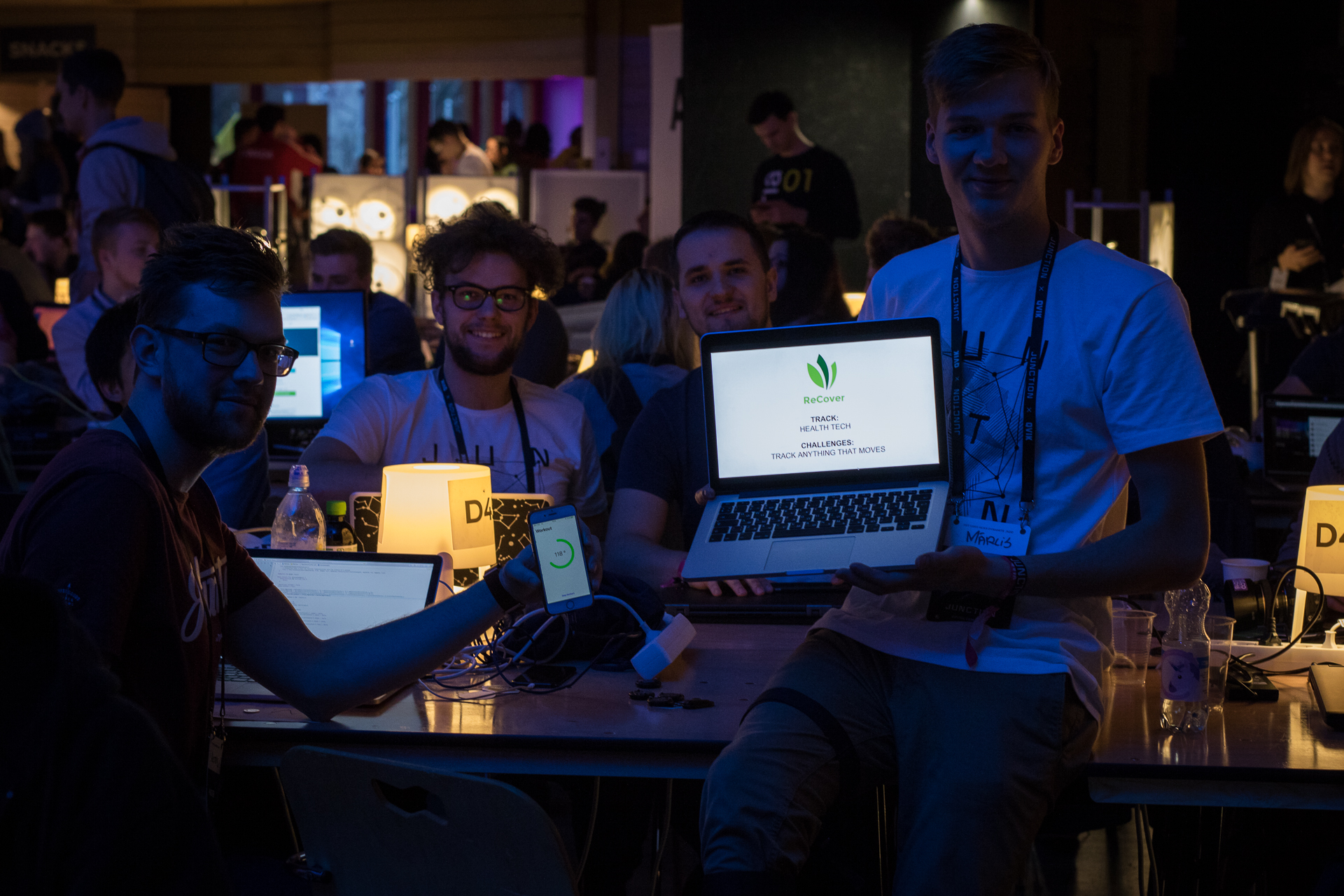 The general IoT award went to the project called Superman Navigation. It was an elegant, complete demo of using the Movesense magnetic sensor to help user find where to go. The sensor tracks the direction it is aiming at and compares that with the destination of the user. The more precise the user is pointing to the correct direction, the the more the user's phone vibrates. The ultimate solution is to build the whole function in a smart watch but the team showed the idea in a beautiful way with a phone and a separate sensor.
The Movesense crew congratulates all teams for great results wishes interesting times experimenting with the sensors back at home. We are looking forward to seeing what you come up with next!
Check all Movesense challenge projects on Junction website.