May 31st, 2018
Movesense Meetup Summary
The second global Movesense Meetup took place on May 30th at Suunto office in Vantaa, Finland. We had an active participation from seven countries and more than 30 different network partners, all working on or planning to start Movesense based projects. Thank you to all participants and presenters! It was a highly productive and inspiring day for the Movesense team and hopefully also to all of you!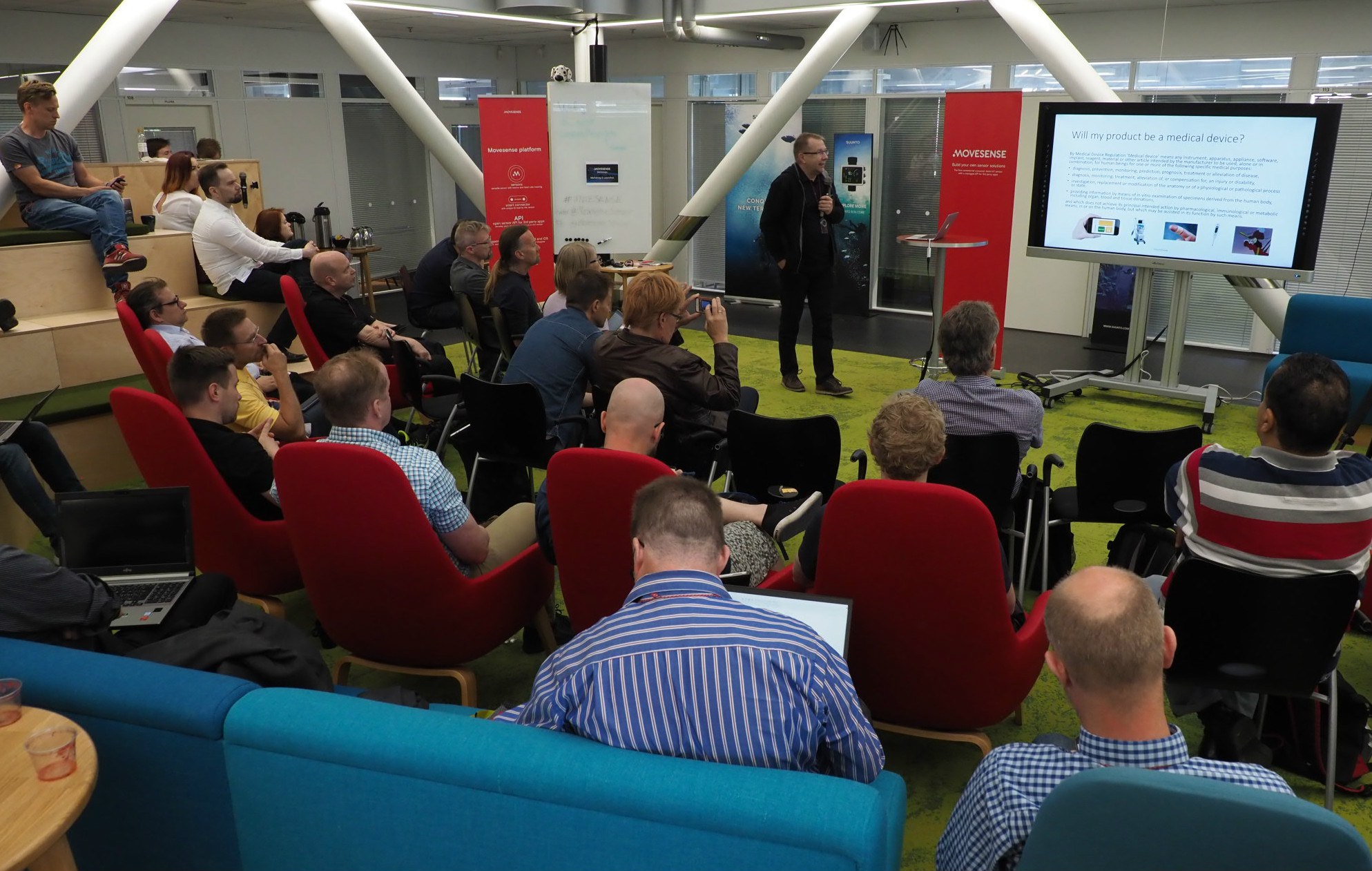 Movesense overview started the day
The day opened with an early morning session of Movesense programming for the most enthusiastic developers who wanted to have a deeper hands-on coding session with Suunto lead developers.
The official program started with an overall status review of Movesense platform development by the Movesense team and a handful of tips for effective working on Movesense based projects. Here are the key topics related to Movesense firmware:
– Firmware updates are being published on a 4-6 week cycle. The latest one is 1.6.0. It's always a good idea to run the latest sensor firmware!
– When asking coding related questions, please use public channels (Bitbucket, Stackoverflow) to help other developers at the same time.
– Your feedback and requests are important for guiding the firmware development. We'll prioritize features and bug fixes with the widest community impact.
– We are currently working on a Movesense desktop emulator, MDS communications library update and an improved battery meter & configurable low battery warning.
On the device side, we are going to have one more hardware round to ensure high quality heart rate and ECG readings in conditions where a lot of movement is involved. This doesn't affect the use of accelerometer, gyroscope, magnetometer or thermometer and has no impact on software development even on the heart rate side. If you intend to use the heart rate measurement functionality of the Movesense sensor in your project, you can contact us via info@movesense.com for further instructions.
We are ramping up the production of attachment accessories and have a reference design of a sports bra with integrated textile heart rate electrodes and a Movesense connector. Wrist bands and clothing clips are already shipping to the first customer and will be available on movesense.com/shop within few weeks.
Case presentations showed the power of Movesense platform
Frogology analyzes swimming style
The first project case, a UK based swimming analytics concept Frogology, was presented by Richard Tucker, Amphibian Technologies, and Matti Lehtinen, Symbio. Frogology uses several Movesense sensors to analyze swimming technique and help swimmers optimize their swimming style. The concept works for both elite athletes and recreational swimmers. Tucker started the project about two years ago but mentioned that "only when we got across Movesense about a year ago it really started rocking." He aims at starting larger field tests and public communication about the product later this summer.
Heart2Save goes to medical field with arrhythmia detection
The next presenters, Helena Jäntti and Pekka Kola from the Finnish start-up Heart2Save gave interesting insights from the medical field and useful instructions for companies who need to comply with medical regulation with their Movesense projects. The main conclusion was encouraging: "If you take things into account in advance, it's completely doable even or a small start-up."
Heart2Save is using the Movesense sensor to detect arrhythmia and to prevent stroke. Their finding from clinical validation research was that the Movesense sensor with their AI algorithms is as good in detecting arrhythmia as the current golden standard in medical environment. However, Movesense comes with the remarkable benefit that it suits for self-monitoring from both cost and usability perspective.
ReimaGO became an important strategic asset to Reima
The third case was ReimaGO, an activity monitor for kids, that was launched already in 2016. Mikko Linnaluoma went through how the established apparel manufacturer Reima added a digital element to the product line.
It was fascinating to hear how ReimaGO has become a crucial part of company's strategy, an important differentiating element on a very competitive market, a valuable tool to drive brand awareness, and a big contributor to the overall success of the company in the past two years.
Reima is a perfect example of how a company on a traditional market can take its brand and business to a completely new level with innovative digital concepts and agile ways of working. We hope to see many more companies to repeat their success in various business areas.
Movesense is ideal for scientific research
We also had a scientific contribution by Jussi Virkkala, researcher at the Finnish Institute of Occupational Health. Virkkala's specialty is somnology and he demonstrated a reaction time test with Movesense sensor that he are using in field tests with employees in demanding professions. He said that compared to typical mobile phone based reaction time tests, Movesense sensor has a much smaller latency and thus more reliable results.
Overall, Virkkala concluded that researchers need devices that are customizable and cost effective and praised Movesense to be a perfect solution for all kinds of research projects in his research portfolio. In the next few months, he will have several posters of his Movesense-enabled studies in sleep research conferences.
New developer tools to speed up Movesense projects
Andy Wigley from Microsoft showed how to build a Movesense Android app in 20 minutes with his .NET SDK for Xamarin. The Android version of this fantastic tool for developing Movesense compatible mobile apps is already public on Github. iOS is still under development and will become available soon. We'll go through the solution in more depth once both operating systems are supported.
Alexander Kern from Kaasa Solution GmbH has developed a plugin for Unity3D mobile game engine to enable dashing visualizations of motion measured with the Movesense sensor. The plugin will be available to all developers via Unity asset store as soon as we get it approved by Unity.
Workshops make it all concrete
We dedicated the whole afternoon to practical workshops to go through questions and challenges of participant projects. Movesense development team and guest presenters Wigley and Kern helped participants to get their projects one step closer to market and participants gave important feedback to the Movesense team.
From the marketing & launch workshop we got some very concrete guidelines to all members of the community:
– Together we can be much bigger than any of us is alone. Let's follow each other in social medial and cross-promote each other's content.
– When communicating about your project on social media, tag it with #movesense, @MovesenseSensor (Twitter) or @MovesenseOfficial (Facebook). That way we notice your posts and can share them.
– The more widely known Movesense becomes, the more credibility it gives to all member projects. All of us can contribute to this.
– When launching your products, get in touch with the Movesense team. We have many ways to contribute to your launch visibility in Movesense and Suunto communication channels.
A general conclusion of all participants was that this kind of events are highly useful and needed also in the future. We decided to set up another network meetup in the autumn. Welcome to join! In the meanwhile, follow @MovesenseSensor on Twitter and like @MovesenseOfficial on Facebook to stay up to date. And don't forget to subscribe to our newsletter at the bottom of the page.