March 5th, 2019
Movesense Brings Live Sports Performance Data to a TV Broadcast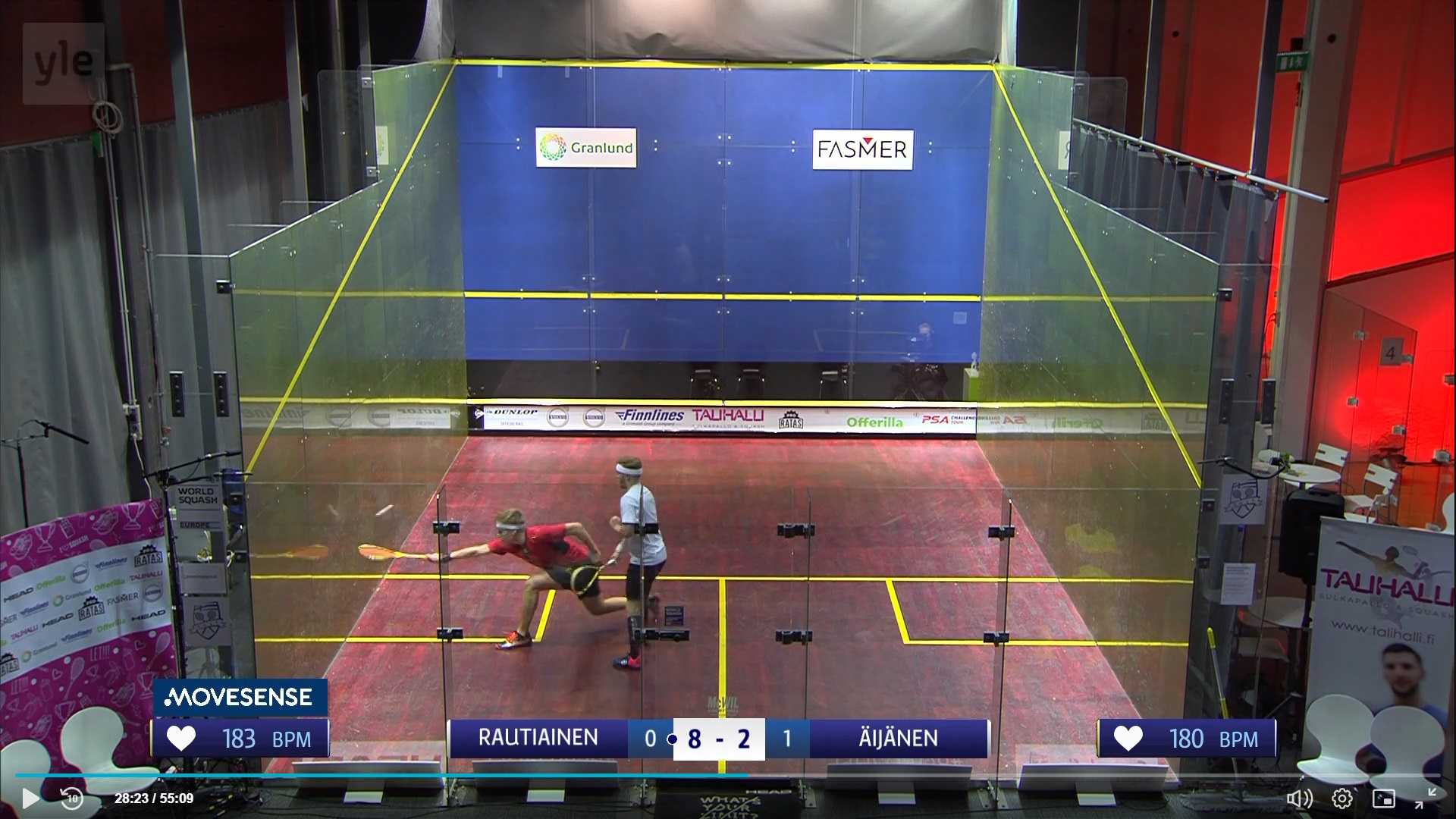 Few weeks ago, Movesense team got a phone call from the Finnish Squash Federation about live sports data:
‒  We would want to show live heart rate on TV from squash players in the Finnish Championship tournament. Can you help with that?
‒  Sure, it should be doable. When is the tournament?
‒  Well, the finals where we would like to have this live will be on Sunday next week. It's a bit short notice because we first looked for other options until we found out about you.
‒  Ok, no problem. We can do it.
After this conversation we started a quick one-week development sprint with our software partner Symbio that has a team of experienced Movesense developers. Two developers spent a week in our office to make it happen.
The backbone of the system was our recently released Movesense cloud gateway implementation for Raspberry Pi. This tool allowed us to receive Movesense data from players on the court and make it available for further processing. This gave us confidence that we can implement the system on such a short notice.
Another piece of software that we already had in place was a sample app to the sensor itself that measured heart rate and motion intensity and included the data in the sensor advertising message, ready to be collected with a Bluetooth receiver.
With a data collecting tool in place, the development focused on creating a graphical presentation of the data in line with the visual guidelines of the Finnish broadcasting company YLE, and a local server to the Raspberry Pi that provided the graphics to a client in the TV broadcasting system so that YLE could simply overlay the data on the TV image.
After an intense week of development, the system was tested on Saturday during the first rounds of the tournament.
One Raspberry Pi was collecting data from players, rendered the specified graphics, and provided them through the local server from where the YLE broadcasting system fetched the data layer whenever the director wanted to show it.
Everything worked fine and, on Sunday Feb 17, ten days after the first phone call, we had live performance data from Movesense sensors on the screen in a national TV broadcast from the finals and bronze matches of both men and women. You can watch the men's final until March 17, 2019 here (visible only in Finland).
Both YLE, the production company and the Squash Federation were very happy with the outcome and the Movesense team is extremely proud of once again having shown the power of the Movesense platform to create customer value with a minimal investment in record time.
In addition to heart rate that was shown on TV, we collected motion intensity data from the players that was not shown on TV. Players found the motion data very useful for their a post-game analysis and it has a lot of potential to add highly interesting insights also for the audience.
With its endless options to measure sports specific data, Movesense opens great opportunities for broadcasters and event organizers to add an engaging performance data dimension to live streaming of sports events at a very affordable cost.
To implement something similar yourself, follow our step by step instructions here. The example is using IBM cloud to store data but you can modify it to be used with other servers.
If you are interested in knowing more, drop us an email via info@movesense.com.