October 14th, 2020
New Solutions for Wheelchair Sports Performance Measuring with Movesense
Measuring performance is a common practice in able bodied sports, with all kinds of equipment for measuring intensity, speed, training load and so on. But wearables dedicated to wheelchair sports mobility performance measurement have been lacking.
Based on his PhD dissertation Out of the lab, onto the court, Rienk van der Slikke searched for ways to expand his scientific work into an athlete ready performance measurement. Via Movesense Academic Program, his research group joined forces with Kaasa solutions and Movesense, to develop the Wheelchair Mobility Performance Monitor application (WMPM).
The WMPM iOS app, programmed by Kaasa, uses three Movesense sensors for collecting data. One sensor is placed on the wheelchair frame, one on a wheel and the third with a belt around the athlete's chest. The sensors send data to the iPhone and the WMPM-app calculates performance parameters like traveled distance, speed, time in speed zones, rotations, and the number of pushes. Furthermore, raw sensor data is forwarded to the cloud for safe storage and additional in-depth analyses.
Starting with Dutch Wheelchair Sports
Rienk is currently part-time appointed as embedded scientist for the Dutch national wheelchair athletes. He is helping the athletes to implement the WMPM-app in the daily training routine for wheelchair sports like basketball, tennis, rugby, racing and para-triathlon.
The use of the app helps athletes and coaches to get insights in the training routines and training status. Instead of only periodically measuring the maximal performance in an isolated lab or field test, athletes can now measure all matches and training sessions. This works even when national team athletes are training with their own clubs.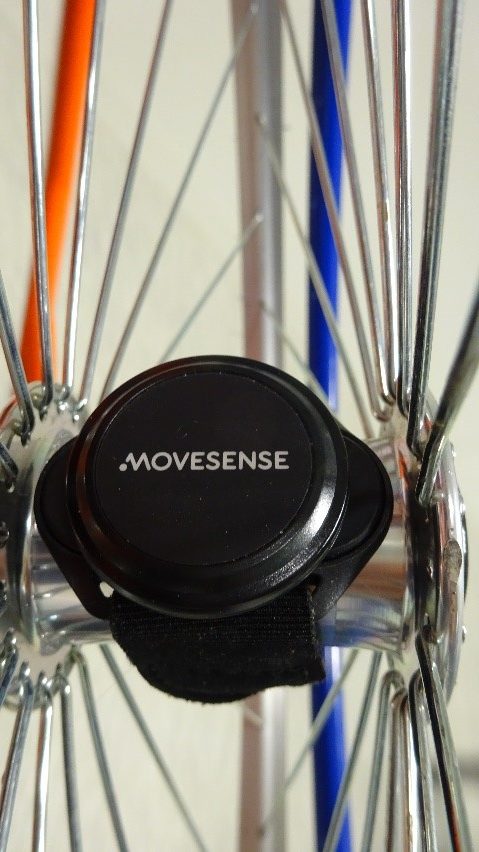 Gert Jan van der Linden, coach of the Dutch wheelchair basketball team confirms, "the WMPM-app is an important tool to get more insight in what our athletes carry out during training. That way we can optimize the training to avoid overload injuries, yet offering enough intense training load to get them match prepared."
Using Movesense sensors is easy and unobstructive to perform measurements also during matches. This gives the athletes and coaches clear performance reference values to outline training schedules. In sports like wheelchair racing and para-triathlon, measured pushes and speed could be enforced to optimize racing strategies.
Although currently only used for a selection of the Dutch national team athletes, the WMPM-app is suitable for wider application in community level wheelchair sports and for daily wheelchair use. Some first test in that direction are carried out already. The team hopes that the WMPM-app will be providing value to wheelchair users on a large scale in the future.
Project website: http://www.wheelpower.online/
Featured image: Guus Schoonewille