March 5th, 2021
Runeasi Brings Personalized Biomechanical Insights to Runners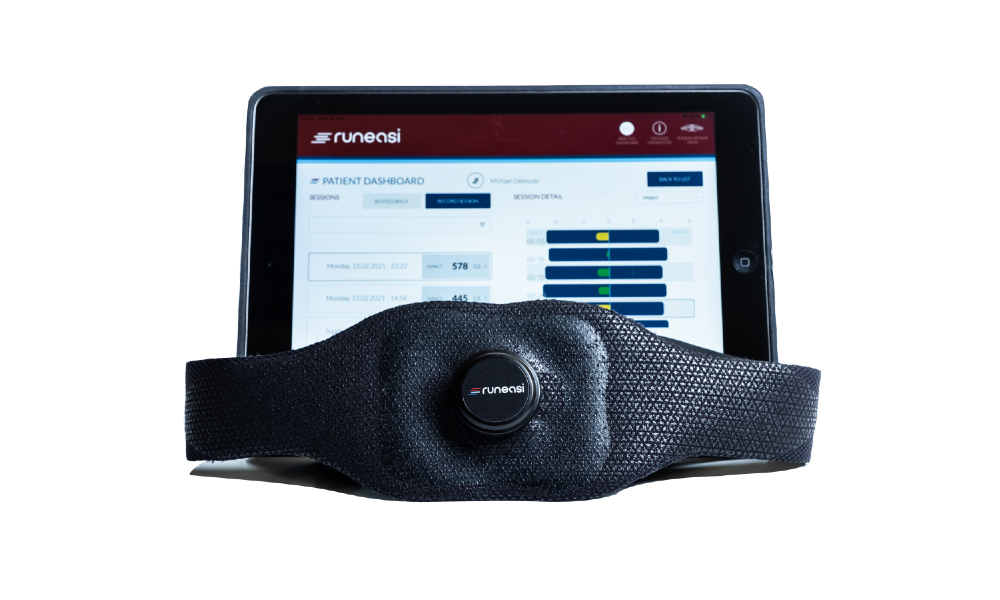 Runeasi, a biomechanics and AI expert and a university spin-off of KU Leuven, Belgium, is launching a new running analytics tool for coaches and physiotherapists to help their clients run better. Runeasi uses Movesense sensor for the measurements.
The solution is already used by a number of physio practices in Belgium and the company is winning new customers on daily basis. Runeasi is currently gaining momentum in their home market Belgium and has already received the first international orders. Hopefully Runeasi will become a standard tool for every physiotherapy practice in the world!
Runeasi team has communicated actively with Movesense staff when preparing the launch. We are also active runners, so we asked one of the co-founders, Kurt Schütte a bit more about the new product:
How would you compare your product to other running sensors  – what makes it unique?
— We are the first scientifically validated biomechanics wearable on the market that allows you to measure the impact while running and detect how the body responds to it. For example, during landing the runner must stabilize his hips and trunk with good control. Our research at KU Leuven shows that when the runner is fatigued, has pain, or injury, they loose their ability to control their landing and compensate with excessive side-to-side motion. This is revealed in our dynamic instability parameter. It is possible for us to accurately capture these biomechanical compensations due to the unique positioning of the Movesense sensor close to the body's center of gravity.
Could you tell an example of those actions that a coach or a physiotherapist could do to help a person to run better, to avoid injuries or to recover better from an injury?
— Firstly, real-time feedback loops can help to make athletes run better. Our biofeedback mode on your iPad or tablet allows to observe the immediate effects of your instructions/cues on your athlete's biomechanics. For example, by instructing an athlete to "land more softly", or to "increase their preferred cadence by 5-10%" , you can immediately assess how well your athlete reacts to that instruction. Is the impact actually reduced as intended or is the athlete responding unexpectedly?
— Secondly, by better understanding how the body responds to impact on the body, training sessions can be progressed more gradually to avoid overuse injuries. If a marathoner says he/she suddenly starts to get knee pain after an hour of running, you can send him out with the sensor to collect real-world running data. When he/she returns, you can identify "early-warnings" e.g. impact asymmetries or dynamic instability that sometimes appear a few minutes before actually feeling the pain. This gives an objective way to make sure all future runs are done with good quality and can be used to prescribe corrective exercises.
— Thirdly, objective and regular assessments allow for a faster return with confidence. If an athlete is returning to sport after a serious injury, e.g. an ACL tear, you can identify how large the asymmetries are between the injured leg and healthy leg – and progress that athlete through his or her rehabilitation program to reduce the asymmetry over time. Often, there are physical differences in muscle strength that are translating to impact asymmetries while running, but sometimes is it purely psychological where the athlete is still "protecting" the injured leg.
How would you comment on the role of Movesense in your development project?
— Any startup focused on algorithm development will know what a mammoth task it is to bring a consumer electronics solution to market. Movesense provides us with the most state-of-the-art sensors to convert our technology and biomechanics algorithms into a consumer ready product! We now have a wearable technology that is robust and ready for real-world running!
Movesense wishes success to Runeasi and will start testing the product in our own runs!
Read also Runeasi showcase in our showcase gallery.
Runeasi website: runeasi.ai