April 22nd, 2021
Jokerit Hockey Club Leads Sportstech Use in KHL
The Finnish ice hockey club Jokerit plays in the international ice hockey league KHL that covers two continents and extends across several time zones. To manage players' training and recovery, the team is using various tools including Suunto 9 sports watches and Movesense-powered Ainone Balance.
In the KHL, Jokerit is perceived as a forerunner in the use of sports technology, and other teams are often asking Jokerit staff about tools that they are using. We had an opportunity to chat with the team about the sportstech topic after the season.
— Sports technology plays a major role in coaching today. The information that we get is very important in two ways, says head coach Lauri Marjamäki with his 26 years of coaching experience.
— A certain amount of data is always needed to support the coaches to manage training and recovery. And, even though we are talking about team sports, it's a significant step ahead for individual athletes who want to optimize their performance. For an individual athlete who is interested in his performance and his career as a professional athlete, sports technology and Suunto devices enable accurate monitoring of training, recovery, and sleep, and help to understand what's happening in the body, says Marjamäki.
Defender Niklas Friman confirms,
— Training data is key. With data, training is not just feeling-based, but it helps to know exactly how to go on with training. I use the tools also out of training to monitor recovery and sleep.
— Playing in KHL means a lot of traveling, long flights, and large time differences. Sufficient recovery during the season is essential and extremely difficult, says Hero Mali, strength training coach and physiotherapist.
The team uses Suunto 9 watches and Oura rings for measure sleep and recovery, the two parameters that are most closely monitored. In off-ice training, heart rate monitoring helps ensure that the training intensity is low enough.
— When on ice, players are wearing 15 kg of equipment. With the extra weight and the heat impact, heart rate is immediately in the red zone. Training base endurance on ice is almost impossible, Mali explains.
— Technological solutions are very useful in training. However, because ice hockey is a skills sport, the physical performance is not the only thing that counts. If we always wanted to be fully recovered, there would be no training at all between matches. Instead, the target is to slow down the impact of the cumulative load during the season on performance.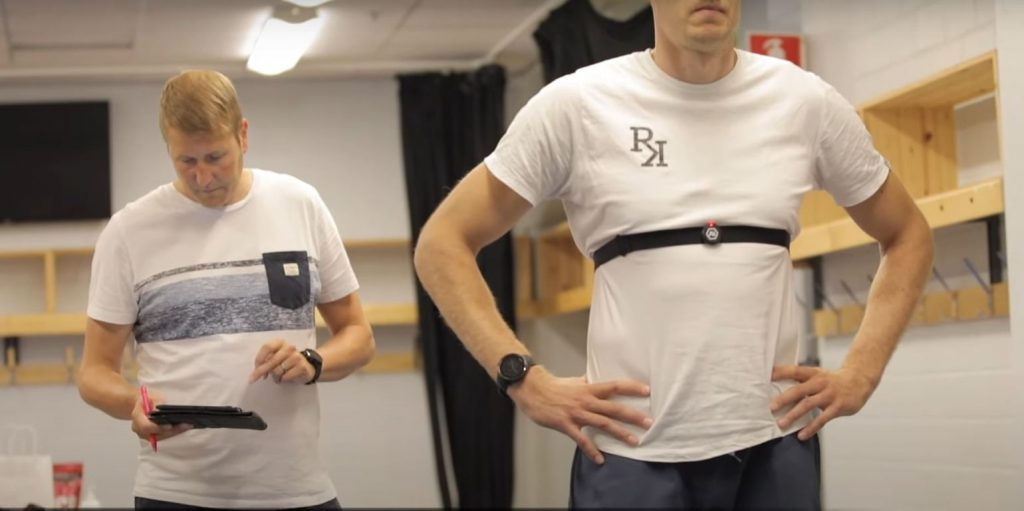 Matti Vartiainen (left) from Ainone is testing the balance of a Jokerit player. Photo: Jokerit
One of the tools in the sports tech toolbox of Jokerit is Ainone Balance. The application is used to evaluate a person's balance by measuring sway with a mobile application and a Movesense sensor. Balance measurement can be used to assess an athlete's performance as well as potential injury risks. For Jokerit, the balance assessment is done for each player before the start of the season as part of the baseline mapping.
— Based on the numerical balance assessment values we receive before the season, it is possible to customize training programs to those who need them and track injuries during the season. An example of this is the use of baseline assessment and follow-up measurements of athletes with concussions to optimize their training and to monitor the process of returning to the matches, says Jokerit physiotherapist Sauli Reunanen.
Mali tells another practical example of optimizing player performance with technology. During the season, some players became infected with Covid-19. When the players were returning on ice, they were carefully monitoring their heart rate intensity and recovery with the coaches, and gradually increased the amount of high intensity training to ensure that the recovery process continued smoothly.
In certain Russian teams, returning players went from 0 to 100 when returning to matches after Covid-19. Some Finnish players on these teams said that even two months after returning to the playing roster, they still don't recover properly from a high-intensity load.
When talking about the future needs, Mali mentions the idea to optimize recovery at the bench between shifts. The team wants to add monitoring of physiological and statistical data during matches, not just in training, where different tools are already widely used. As a guideline for solutions to support this target he says, the smaller, the lighter, and the more unnoticeable the devices are, the better.
Sounds like a need for new solutions with Movesense!