January 18th, 2022
Movesense Boosts the Rise of Medical Wearables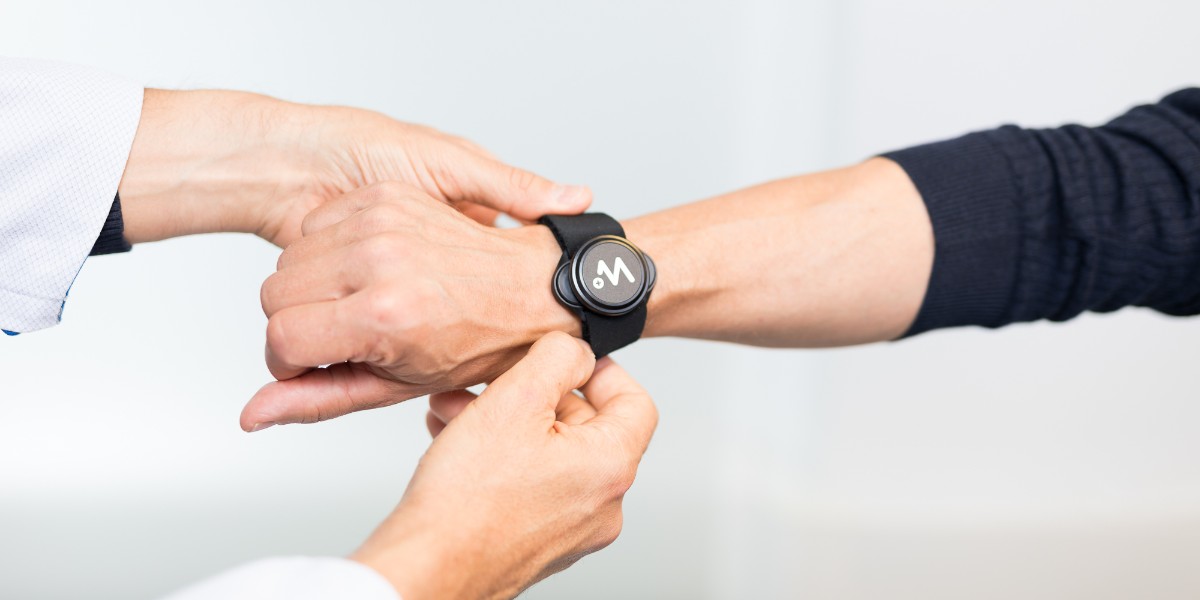 With the fast evolution of health technology and wearable devices, the range of health-related products that are available for consumers and private use is increasing rapidly. Medically regulated products are quickly becoming as accessible for consumers as easily as ordinary, unregulated consumer electronics products.
The pressure of rising healthcare costs and the rapid increase of interest in remote healthcare applications brought about by the Covid-19 epidemic reinforce the trend. As a result, the market for daily health monitoring and telemedicine solutions for personal use is growing exponentially.
Global consumer electronics giants also want to take a share of the digital healthcare market and are introducing new products with health features. Recent examples are Apple Watch with ECG and Samsung smart watch with blood pressure measurement.
While more and more consumer products are claiming various health benefits, the border of professional healthcare products and consumer market is blurring. This may confuse both healthcare professionals, consumers interested in their own health, and even device manufacturers.
In this article we discuss the differences of medical and non-medical wearables and how that affects their use. We will also review how the Movesense sensor platform can be used to bridge the gap between the medical and non-medical sides and develop new wearable products for both markets in a cost-efficient way.
References to the Medical Device Regulation (MDR) in the article are related to the European legislation but very similar processes and regulation exist also in other markets.
What is a medical device?
Medical devices range from simple band aids to extremely sophisticated surgical robots. They all have different health-related claims that describe their use and benefits for users. To protect users and to ensure patient safety, both medical devices and their marketing claims are firmly regulated.
According to the medical device regulation, as soon as the intended use and indications for use of a product include the diagnosis or cure, mitigation, treatment, or prevention of a disease or other condition, the product is a medical device. It must conform the Medical Device Regulation and the standards and directives related to each particular use.
Mobile applications and software products that meet the criteria of intended use are also regarded as medical devices, even if used without connection to a physical medical device. They are considered software as a medical device and they also must follow the guidelines for clinical evaluation and medical registration.
Clinical validation and external audition ensure patient safety
Depending on the risk level of the intended use, medical devices are divided in four classes, I, IIa, IIb and III.
To certify a non-sterile, non-measuring, class 1 medical device, manufacturer's own declaration of compliance with the requirements of the MDR is sufficient. All other medical devices must be certified by a notified body through a rigorous, well-defined process.
To certify a regulated device, the manufacturer must demonstrate the safety, effectiveness, and performance of the device, and provide the notified body with proof that the product fulfills the requirements of the respective directives. This usually requires a clinical validation as well as testing of the device against standards and directives applicable for the use case.
In addition, there are specific requirements on production and quality control of medical devices. The manufacturer must have an ISO 13485 certified quality management system in place and run a risk management system. Both systems are audited by a notified body. These systems ensure high product quality, complete product traceability, and define the corrective processes in case of a quality issue.
Also marketing communication of medical devices is regulated. MDR prohibits using any misleading elements in marketing, and the manufacturer must be able to prove all the marketing claims it uses.
Cybersecurity requirements of medical devices are also stricter than on the non-medical side.
Non-medical wellness products
Despite the association with a healthy lifestyle, virtually all smart watches, fitness trackers, heart rate monitors and other wearables currently sold in the consumer electronics market are regarded as non-medical. Running clinical trials and maintaining a certified quality management system is a big effort. Therefore, most wearables manufacturers are still staying out of the regulated market.
This means that the data that the non-medical devices measure is not clinically validated, and their manufacturers are not responsible for the accuracy and reliability of the data that the products provide. Manufacturers can also modify their measurement and data processing algorithms whenever they want without the need to validate the results publicly or communicate changes to customers.
General warranty terms and the consumer protection law naturally also apply to non-medical products, but the manufacturer has no responsibility of the outcome if these products are used for health-related measurements.
These products can still help their users significantly improve their health, for example, by inspiring them to be more physically active, improving their sleeping habits, or helping to reduce stress. However, without a medical certification, they can't be used in actual healthcare or marketed with health claims.
General Wellness products – a U.S. specific category
An exemption of non-regulated devices used for health-related purposes are general wellness products in the U.S. If a product is intended for general wellness use only, and is low risk, it may not be actively regulated by the U.S. governing body FDA.
The precondition for a general wellness device is the intended purpose: either supporting a healthy activity or relating to the role of healthy lifestyle with helping to reduce the risk or impact of certain chronic diseases.
Promising outlook for new health wearables
The advantages of new wearable devices in healthcare are clear. They provide new effective solutions for monitoring and treating a variety of health conditions throughout the cycle, from early prevention and diagnosis to treatment and rehabilitation.
Wearables are often better than conventional medical devices for continuous use and remote monitoring in home environment. Their size and form factor, comfortable wear, and independent operation make them acceptable for daily use and enable remarkable cost savings as patients can often use the devices without professional assistance.
Sports wearables and fitness watches are a good starting point for new medical devices. They are designed for active daily use, optimized for usability and visual appeal, and include various generic features that make them interesting to consumers with and without health-related needs. Most of them are just lacking the specific health functionality and the medical certification.
Movesense bridges the gap between consumer wearables and medical devices
Movesense is an open device platform for developing new wearable products for health, wellness, and sports. Its core is a programmable movement, heart rate and ECG sensor that is available both as a medical and a non-medical version. The sensors are designed and manufactured in Finland, and they come with a set of free developer tools and sample code that allow innovators to turn their ideas and insights into commercial products without having to worry about hardware development.
With roots in cutting-edge sports technology, Movesense brings the benefits of lightness (weight 9.4g/0.33oz with battery), high durability (water and impact resistance), comfortable wear, and ease of use to the world of medical devices, where these features have not traditionally been self-evident.
Since April 2023, the Movesense Medical sensor is certified as a Class IIa medical device in conformity with the EU Medical Device Regulation 2017/745 (MDR). It can be programmed with custom functionality and accompanied with a host device and application that visualizes and further analyses the sensor data.
For developers aiming for a new commercial health product, the existing, medically certified hardware is a big step toward a finished product. It significantly speeds up both the development and the certification process of the complete solution and reduces the product development investment required. The flexible manufacturing process of Movesense ensures that the sensor is available in small quantities for prototype projects and in large volumes for mass market. Custom branding is available from as low as 100 pieces.
Movesense sensor comes also as a non-medical variant that enables the development of new wearable products for wellness, active lifestyle, and sports at attractive price points. All Movesense sensors are available with custom branding and can be programmed with custom firmware at the production line.
The ability of the sensor to run customer-specific firmware and algorithms ensures that the output of the sensor is completely under the control of the developer. Movesense customers also have full freedom to define how and where they want to store and protect the data measured with the sensors. The edge computing capability also brings excellent power efficiency compared to streaming raw data and enables standalone use cases where the sensor is not connected to an external device during measurement.
The open, innovative Movesense development platform lowers barriers to the creation of new health and wellness wearables. It has the potential to significantly strengthen the market penetration of medically certified consumer products for a wide variety of health needs.
Be part of the virtuous circle
New products and tools also change the traditionally very asymmetric doctor-patient relationship. Historically, only healthcare professionals have had access to an individual's health information and have decided on treatment. New personal health products will provide consumers with much more information and enable them to take an active part in the care process.
This will further increase consumer interest in new products and may also change the way new innovations are adopted in healthcare in the future. All elements of a virtuous circle for the market are there.
If you are interested in turning your own wearable health solution concept into a market-ready product with existing, CE-registered sensor hardware, get in touch with the Movesense team! We may be able to help you get to market much faster than if you developed everything yourself.
Send an email / Request a demo
See examples of published Movesense powered products
Read about the benefits of Movesense ECG measurement compared to traditional Holter devices
To stay updated with the latest Movesense news, subscribe to our newsletter via the form below.
Further reading about medical device regulation
Step by step guide to compliance for manufacturers (CE)