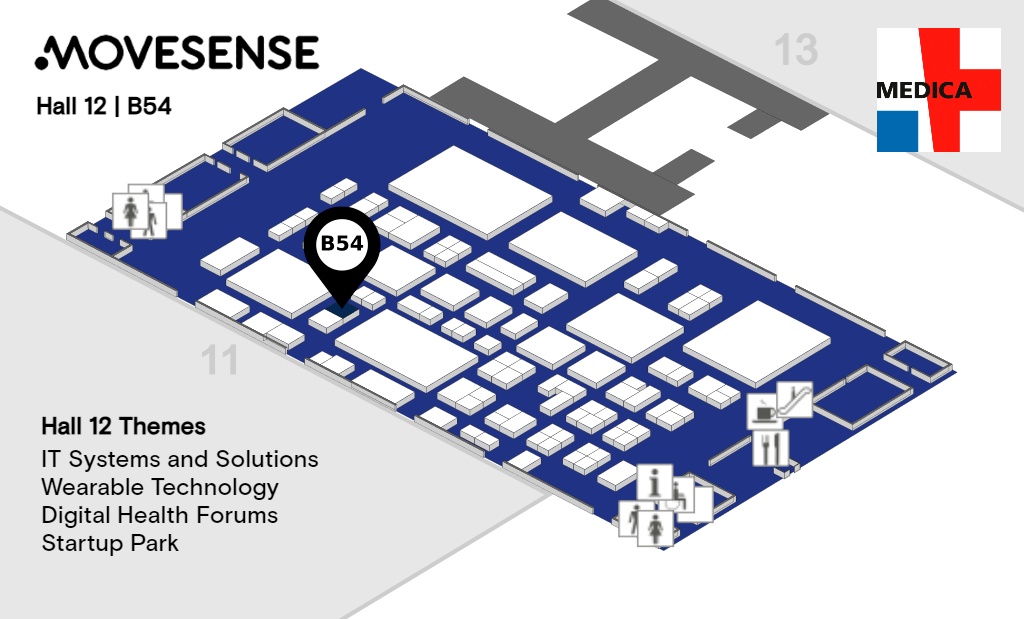 MEDICA is the worldwide largest trade fair for the medical sector. It's the place to see the newest medical products, trends and technologies, to connect with the industry, and to learn about the healthcare evolution in various forums and conferences. This year, the event will return back to normal after the pandemic. Nearly 100000 visitors and thousands of exhibitors from all over the world are expected to gather in Düsseldorf, Germany, on November 14-17.
Movesense will be exhibiting at Medica in Hall 12, the show hotspot for digital health and wearable technologies. We are showcasing the benefits of Movesense Medical sensor in the healthcare market. With its 1-lead ECG and 9-axis movement measurement, Movesense Medical can be used in various applications in remote patient monitoring and in clinical environment.
Movesense Medical sensor is a Class IIa medical device. The accuracy of its measurement data has been validated in several scientific and clinical studies. The sensor and the associated developer tools provide direct access and full control over raw ECG and movement data. The sensor can be integrated into existing health ecosystems to quickly start collecting patient data. It can also be tailored for specific applications with custom firmware, and white labeled with the customer's logo.
Movesense sensors are made in Finland. Our flexible manufacturing allows our customers to build and test new product concepts with a small number of sensors and scale successful trials to mass production quickly without investing in their own hardware production. In the era of exploding healthcare costs and an urgent need for effective, low-cost patient solutions, Movesense helps healthtech innovators to shorten the time-to-market and reduce the development cost of new wearable health solutions.
We welcome health ecosystem operators, medical technology developers, researchers and innovators to visit us at the booth B54 in Hall 12 to learn about how Movesense sensors can solve the needs in your business or use case.
Read more about the show on MEDICA 2022 website.
To discuss about your needs already before the show, don't hesitate to contact Movesense team right away: