October 26th, 2022
Top 5 Conclusions from the Biosensors for Medical Wearables Conference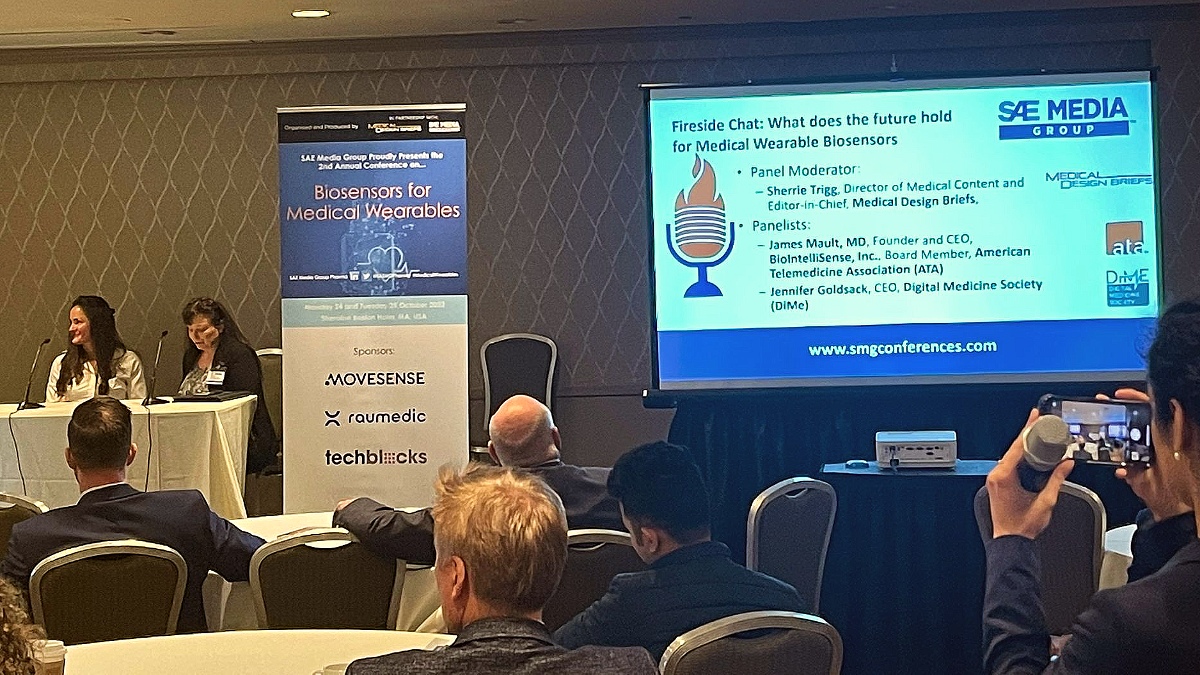 Biosensors for Medical Wearables is a compact conference with a laser-sharp focus on wearable medical sensors. The event brought together pharmaceutical companies, medical device developers and component manufacturers to Boston on Oct 24-25 to explore key drivers and innovations of the rapidly expanding wearable medical biosensors market.
Movesense was one of the event partners, represented by our Sales Director Timo Toivonen. Here are his five key conclusions from the conference:
Data management was a big topic of discussion

There is a lot of sensor data available, but the systems do not talk to each other. Many speakers compared that cars know how to brake independently in the event of an obstacle and airplanes manage the data coming from sensors, but doctors are constantly presented with different dashboards from which they should be able to read critical information.

In order for the healthcare system to properly reap the benefits of wearable medical devices, development is needed not only in the devices, but also in solutions for storing, interpreting and presenting patient data in a useful format. Movesense supports this by giving developers open access and full control over sensor data. In this way, the measurement results obtained with Movesense sensors can be formatted to fit existing systems and electronic health records, and there is no need to develop new dashboards.

Problems related to regulation and the quality of the data produced by the sensors

As part of its CE medical registration process, Movesense Medical sensor is clinically validated for both 1-lead ECG and movement measurement. Scientific studies confirm its accuracy in detecting atrial fibrillation, estimating respiratory rate, and measuring heart rate variation. This proves that the quality of the ECG raw data that Movesense Medical provides is excellent.

However, good raw data alone is not enough to ensure the value of medical wearables. A lot of effort must also be put into the interpretation and presentation of information, so that it would be useful and it would be easy to act and make decisions based on it. The open API of Movesense and Movesense developer tools and sample code are a good starting point for analyzing, refining and presenting measurement results in an actionable way.

The third critical component in terms of high data quality is the usability and user adherence of measurement solutions. Movesense sensor addresses this in two ways.

It is proven to be comfortable to wear and is preferred by users over traditional Holter devices in screening atrial fibrillations. The good wearability of the sensor is related to its light weight (9.4g/0.33oz) and form factor (chest strap or glue-on patch for ECG and heart rate measurement). Secondly, Movesense sensor is originally designed for consumer fitness use, so patients can use it independently without the help of a healthcare professional. It can also be used at home. This enables continuous measurement in an environment familiar to the patient. This typically produces better and more representative data than individual measurements made in a healthcare facility.

Using snapshot measurements to prescribe treatment

Speakers made the interesting point that although data quality is sometimes known to be poor, clinicians may still use individual measurements as the basis for treatment. An example of this is a blood pressure measurement taken at a doctor's appointment. Movesense removes this issue by allowing continuous monitoring in patient's daily life.

Device manufacturers talked about the challenges of manufacturing medical wearables

Helping companies in this is exactly the reason for the existence of Movesense. Movesense sensor is a programmable 1-lead ECG and movement sensor that companies can customize for a specific use case with their own firmware. Our flexible manufacturing in Finland can produce any quantity of sensors from small prototype batches to large volumes for the mass market with customer's own firmware and branding.

By using existing, proven sensor hardware, companies can focus on developing the actual user value and stop worrying about their own device development and manufacturing. This helps to shorten the time to market and significantly reduces the total investment in new product development.

Pharmaceutical companies face challenges in finding the right sensors for clinical trials

This is another topic where Movesense can help. Researchers have used Movesense sensors to monitor tremor in Parkinson's disease, sleep and motor development of infants, detecting the symptoms of COPD, to name a few examples. A full list of research reports can be found in Google Scholars. This proves that Movesense sensors can be used for monitoring a wide variety of different health conditions, as long as the symptoms are reflected in ECG, heart rate or movement.

The sensors are available off the shelf for quantities typically needed in drug testing, and Movesense Showcase App and Kaasa Data Collector are immediately available for collecting sensor data in research projects. We welcome pharma companies to open the discussion right away.